Thumbnail sketch of a mystical, revolutionary poet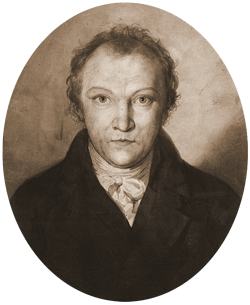 ●
William Blake was born in London in 1757, a city in which he lived and worked for much of his life.

● He left school at the age of 10 to become apprenticed to a master engraver, in which he remained until 1779.

● As a child he was able to 'see' luminous beings not of this world, and these continued into adult life, often mingling with prophetic visions and dreams to inspire much of his creative output. His first poems were published in 1783.

● He married Catherine Boucher in 1782 and shortly after attempted to set up his own print shop, which ultimately failed.
●
Though intensely spiritual in outlook, and enjoying patronage from among the clergy, he was far from orthodox in his religious beliefs, which - like his political views - were often at variance with established traditions.

● He was influenced by Gnosticism and the mystical teachings of Swedenborg and objected to the constrictions imposed by conventional sexual morality.

● In 1800 he left London to live and work for a short while in Sussex but returned to the capital in 1803 where he continued to write and to illustrate his own verse with assistance from Catherine who often worked alongside him. His poems remain especially popular. Short on sentimentality, but rich in symbolism, many have a particularly modern ring to them and were also highly influential among the later Romantics and Pre-Raphaelite poets and painters of he 19th century.

● He died in London in 1827.